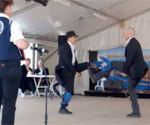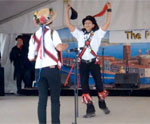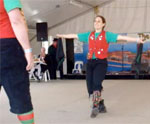 Open to any Australasian-resident Morris dancer, with no entry fee payable.
Part of the official programme at the National Folk Festival, Canberra, 2010. Scheduled for the Piazza dance-stage, Easter Sunday.
Categories: Single and Double Jigg, danced faithfully in the style of a recognized Cotswold Tradition, with encouragement towards ingenuity and imagination, and to the music of a Solo musician.
Awards: 1st Prize: Perpetual Trophy, engraved base, held in trust annually, plus rosette.
Other categories: Rosettes as personal take-aways.

Registrations to Challenge, to: Squire of the Ring.

Challenge Opens: Friday, 5th of March: Closes, Friday, 26th of March 2010, (a three week period). One week remaining before Good Friday, 2nd April, for Ring organizers to schedule.
Entries from Winners not accepted in the year following.
We invite them to judge subsequent Challenges. (Simon Pipe won 3 times in a row?, at Sidmouth, before they banned him; lets not have to resort to this).
Other Judges drawn from senior ranks of Morris fraternity, (one O/S judge, by invitation, maybe even from New Zealand). Total of 3 judges; impartially examining a range of pre-determined Morris dance-related criteria; 'the benchmarks'.
Presentation: Winners will be presented with their respective awards on site and invited to make a short addrerss; perhaps crediting their Foreman/main dance influences, their Musician, preparation of their jig, (and no doubt, their mothers).
Categories and % Breakdown:
Kit/Presentation, Stance and Dignity:

5%

Approach to Audience and Spontaneity:

10%

Faith to Stated Tradition:

25%

Energy, Vigour, Endurance and Floor-Area Covered:

25%

Communication with (and Supportive Involvement of ) the musician
And in the case of a multiple jigg also the co-dancer/s:

15%

Popularity and Audience Response: (noisometre?):

10%

Other: (X Factor)

10%

100-point max score from each judge, for each entrant.
Max Total, a score of 300 points (recorded on pro-forma sheets).